SECCON will be hosting the world-recognized S2 Institute/IACSP Anti- Terrorism Officer (ATO) Course
About the course
9-13 November
The S2/IACSP/SECCON Anti-Terrorism Officer (ATO) Course is designed to prepare security and law enforcement professionals for assignments involving the protection of facilities against terrorist attack. This program provides a detailed exploration of contemporary terrorist methods and essential skills and knowledge that all anti-terrorism personnel should possess.
IACSP Certified Anti-Terrorism Officer (cATO™) Professional Certification
In addition to providing 40-hours of instruction on topics essential to protecting facilities against terrorist attack, the S2/IACSP Anti- Terrorism Officer (ATO) course is designed to prepare program participants for independent certification through the International Association for Counterterrorism and Security Professionals Certified Anti-Terrorism Officer (cATO™) Program.
In order to be awarded with the IACSP cATO™ certification, eligible candidates are required to complete and successfully pass a 100-question examination based on content included in the IACSP/S2 Institute ATO course.
Information about the IACSP Certified Anti-Terrorism Officer application, examination, and certification process is available online: www.catocertification.org
IMPORTANT NOTE: Attending the S2/IACSP/Seccon Anti-Terrorism Officer course does not guarantee award of IACSP cATO™ certification. All course graduates pursuing certification after attending the program must meet essential eligibility criteria and complete the independent application and certification process including successful completion of the cATO™ examination.
The instructor
Craig S. Gundry, PSP, CPS, CHS-III
Craig Gundry is the S2 Institute's lead instructor for anti-terrorism subjects and the Vice President of Special Projects for Critical Intervention Services (CIS). Mr. Gundry is responsible for directing CIS consulting and training projects pertaining to terrorism and critical infrastructure security, including the development of doctrine and training for the CIS Anti-Terrorism Officer Division.
S2 institute
Since 1998, the S2 Safety & Intelligence Institute has trained thousands of security, intelligence, and law enforcement professionals in critical public safety topics. With a staff of world-class instructors, S2 has earned a reputation as one of the nation's premier sources for high-quality security and public safety training. All instructors are experienced practitioners in their related fields and are considered to be at the forefront of the communities they represent.
The S2/IACSP/SECCON ATO Course will be conducted on-site at the Scandic Palace Hotel right next to the Town Hall Square (Raadhuspladsen) in the center of the historic city of Copenhagen. As a participant on the course, it is possible to receive a discount if you apply directly to SECCON at to@seccon.dk. It is not included in the prices of the course and cannot be booked through S2 Institute.
Further information regarding the content of course, booking and prices are availeble in the PDF link below.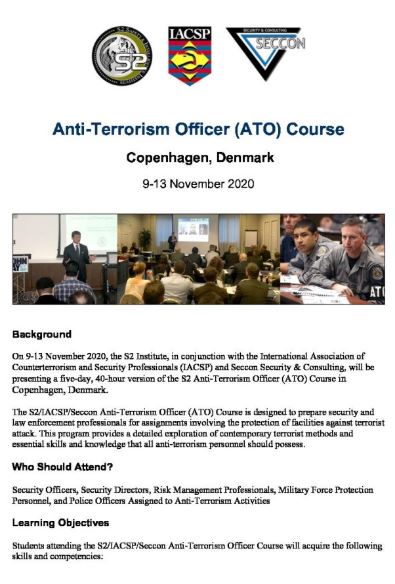 See also ATRR Workshop
The S2/SECCON Assessing Terrorism Related Risk (ATRR) Workshop provides in depth analytics and intelligence tools vital to beeing an ATO and should be attended by all ATO conducting fieldwork. This workshop is a great way to prepare for the upcomming ATO course and should not be left out.
Contact
Feel free to contact us with questions on phone +45 88 72 27 28, or via the contact form below.
---